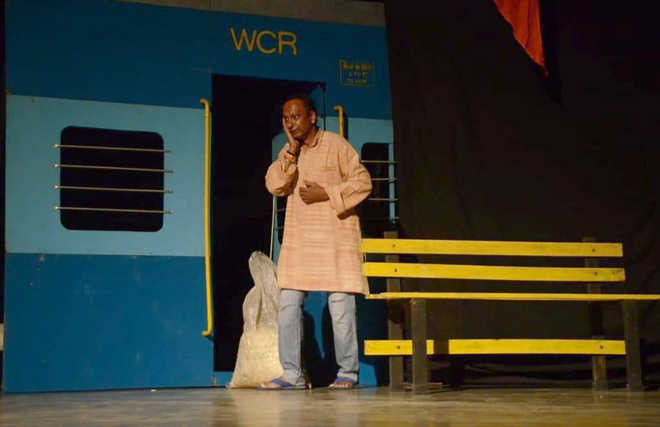 Bathinda:
Artistes vividly highlighted the plight of a materialistic lifestyle and its toll on the lives of people in a play, 'Popcorn', staged at the Balwant Gargi Open Air theatre on the sixth day of National Natyam Theatre Festival here on Wednesday.
The protagonist of the story wants to work in the armed forces and serve his country. He set out to realise his dream. He was also accompanied by four other friends, but unfortunately on the fixed date, their turn did not come. Engrossed in despair while his four friends returned, the protagonist could not muster up the courage to come back thinking that his parents would be waiting for a money order by now.
Without adequate finance to support his daily needs, he takes help from some noble people and later starts selling popcorn at a railway station.
On one fine day, he sees armed forces personnel in a railway coach and in his bid to sell popcorn to them, he enters the coach. But Army personnel beat him up for entering the coach without taking permission. Thereafter, his desire to join the Army dies and he decides to sell popcorns for rest of his life. The play ends on a sad note depicting the harsh realities of life stating that in the contemporary world, there is no such thing exists.
District Education Officer Kulwant Singh was present on the occasion.  The play was staged by a Bhopal-based theatre group. It was written and directed by Ashish Pathak. The audience remained glued to the stage during the one-hour play. In the end, they gave a resounding applause for the impeccable performance given by the artistes.
["source=tribuneindia"]