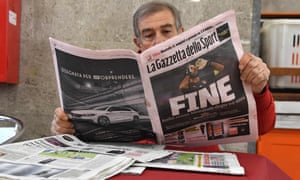 "The truth is nobody has cried," said Marcello Mencarelli, an Italian football fan, after the national side crashed out of qualification for the World Cup finals for the first time in 60 years.
"In fact, most people are happy they'll be staying at home," he insisted. "For two years, they've been playing badly, so they don't deserve to go to the World Cup."
But he admitted he might have had a little lump in his throat as he exchanged text messages with a friend as Sweden held Italy to a 0-0 draw at the San Siro stadium in Milan on Monday night, and made it through to the 2018 finals in Russia over the four-time champions – who most recently won in 2006.
Mencarelli was a boy in 1958, the last time Italy missed out on a World Cup. The Azzurri's four-yearly appearances in the finals have been a regular marker of his adult life. The only other time Italy didn't participate was in 1930, because the team didn't enter.