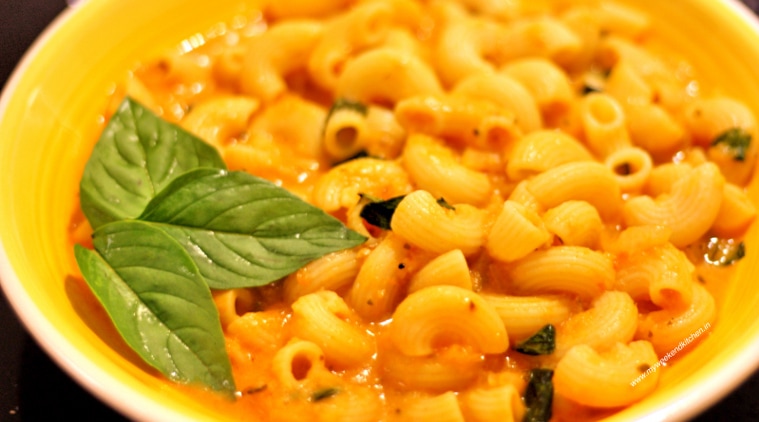 One evening while having coffee with my neighbour, I said "I need some new inspiration for pasta sauce". She asked me if I had basil? I said yes. Then she asked me if I had vodka.
"Vodka?" I asked her, surprised. The only alcohol I had seen being used in pasta sauce till then was wine, but well vodka sounded interesting and yes I did have. Last thing she asked for was cream. And thankfully, I had that too in my kitchen.
Vodka, cream and basil and you are all set for a perfect Friday night dinner with your husband. And I must say she shared the recipe of the perfect vodka cream pasta sauce. It's a gourmet dish that's ready in under 30 minutes.
How about surprising your spouse today?
Note: This recipe is for over 18 years and older only.
Vodka-cream pasta sauce
Preparation: 10 mins| Cooking 30 mins| Serves 2 (with some leftovers!)
Ingredients
2 tbsp olive oil
1 onion, sliced
4 cloves of garlic, minced
1 cup vegetable stock (can replace with chicken stock)
1 cup vodka
8 big tomatoes (~750 gms), blanched and pureed
1/2 cup cream
Salt and black pepper to taste
1 cup fresh basil leaves, torn
300 gms pasta (chifferi or penne)
Garlic bread to serve on side
Method
* Heat a broad based non-stick pan on moderate heat. Add oil.
* Once the oil is hot, add garlic and sauté for a minute. Add the sliced onion and sauté for 4-5 minutes until the onions are soft.
* Add vodka and simmer the sauce for about 10 minutes until the vodka reduces to half.
* Add the tomato puree, mix well.
* Add the stock. Stirring occasionally, bring the sauce to a bubble.
* Reduce the heat and let the sauce simmer for about 5 minutes until it becomes a little thick (or the consistency that you like your pasta sauce to have)
* On the other burner, put the pasta to cook to al dente.
* Check the seasoning of the sauce and add salt and pepper as required.
* Stir in the cream and bring the sauce to a bubble again. Remove from heat.
* Drain the pasta. Toss together the pasta with the sauce and half of basil leaves.
* Serve hot with fresh basil leaves and garlic bread.
["source-indianexpress"]