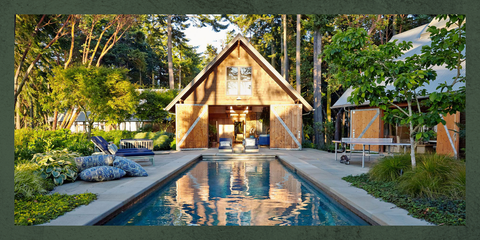 "Rustic" is thrown out there to describe everything from farmhouse decor to a Tuscan-style estate, so what does it actually mean? Do you need to live in a legit log cabin to be considered rustic, or can one word apply so liberally to so many different design styles? It's definitely the latter, but there are several components you need to have for something to accurately be rustic. Here's what's up.
One of the defining characteristics of a rustic home, whether it's cottage or coastal, is the use of natural materials. That means lots of wood and stone (both in furniture and on ceilings/walls), and fabrics like burlap and canvas. "Rustic design, at its core, is the use of organic elements in their most natural state," says interior designer Katie Hodges. Design is simple, natural, and has an earthy feel about it. Raw materials are also common, so rather than finding a sleek, glossy burl wood, you'll find more reclaimed and unfinished woods and stones.
Modern Is Totally Out.
Like, totally totally out. You won't find modern furnishings or flashy, geometric lighting (obvi), but you'll also find a lack of modern materials, like metal, plastic, or synthetic fibers. Again—natural is key.
Contemporary rustic, however, is having a moment right now, where earthy elements of the rustic style are combined with a clean-lined modern design for a fresh, light, and grounded aesthetic. Rustic decor in and of itself tends to be heavier, darker, and less sparse, so the amalgamation of the two styles produces something light and open, but still very natural. Think the Cullen's house in Twilight and you're there. "Side tables, accent chairs, and logs are my go-to's for a dash of rustic without going full on in that design direction," Hodges says.
Rustic Furniture Is Handmade.
In keeping with the natural theme, rustic furniture is handmade. It's generally simple in design and shape, letting the materials stand out instead. Furniture is usually oversized (minimalism is not the word, here), and is designed to feel cozy, easy, and comfortable. Heavy wood furniture, made from raw logs, boards, and stone is common.
The Color Palette Is, Predictably, Natural.
But are you really surprised? The color palette swings heavily towards neutral, but there is room for bold, so long as it keeps to earthy tones. Greens, browns, and grays are common, and it favors warmth, so it doesn't feel too cold and stark.
["source=businessinsider"]