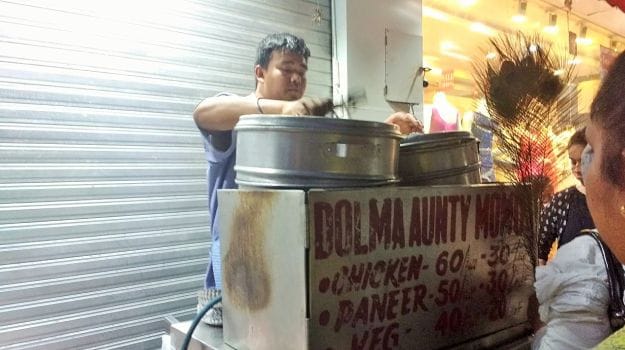 Momos are one of the most-loved street foods in Delhi today. But did you know that about twenty years ago it was almost dismissed by Delhi folks, who thought of it as 'kaccha' (raw) as compared to their beloved fried and 'paka hua' (cooked) street food? A woman named Dolma Tsering was determined to change the street food scene in Delhi, and she took up the mammoth task of bringing these steamed dumplings of Tibet to the streets of Delhi in 1994. The dumplings were till then sold in only well-to-do Chinese or South Asian restaurants.
Dolma Aunty Momos is touted as the first ever momo 'thela' that was established in the busy streets of Central Market Lajpat Nagar by Dolma Tsering, who more fondly came to be known as Dolma Aunty.
We took a rickshaw to make our way to sample the famed momos. The rickshaw driver dropped us near Dolma Aunty's stall, and was kind enough to point us towards her humble kiosk, and said almost with a glint of pride, "that is where she sits, people come from far off to Lajpat Nagar to have her momos." As we approached the stall, sure enough we saw a pool of people – some binging on the hot dumplings and others waiting patiently for their plateful. We got in the line for our turn.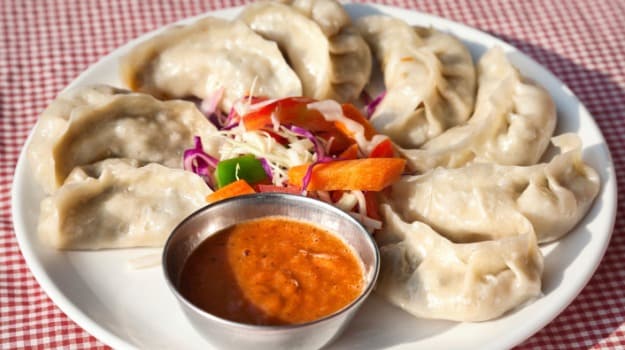 On reaching the stall, we encountered her son Ramu, who was efficiently serving the piping hot momos from the steamer to the wide range of customers who wouldn't stop pouring in. Despite being extremely caught up, he was kind enough to take us through their journey in his own precise but polite way. Most of our questions were met with short, to the point answers.
When did Dolma aunty establish the stall? "1994", came the reply.
On asking about their hailing, "We are from Tibet."
But when we prodded further about the origins, he began to indulge a bit more, "It's the first ever kind of an establishment in Delhi. My mother was the first person to set up a momo stall here in Lajpat Nagar."
When we asked him if Dolma aunty was around? He said she is home, and sweetly offered to call her. "If you are interested, I can call her here," he quizzed. We couldn't be more than thrilled at the proposition and requested him to go ahead. He immediately rung his mother and she came to meet us soon after.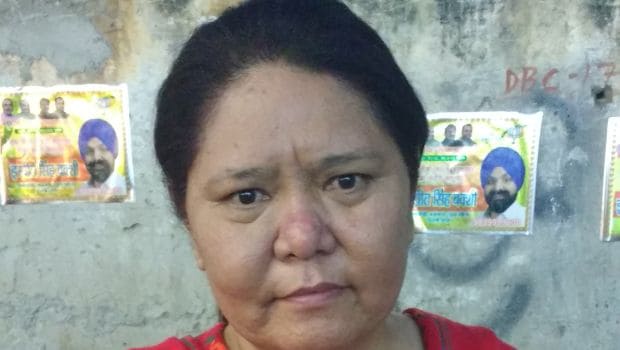 Dolma Tsering aka Dolma Aunty
She seemed bemused to see us at first, but soon gave in to our questions, and she happened to be much more verbose than her son. She narrated in length about how there were hardly any takers in the beginning, and now these dumplings have taken the city by storm, "Where I came from, it was very famous. For most ceremonies, there would be buckets of momos prepared beforehand to be served at the occasion," she said, recalling how she was struck by the idea of bringing the delicacy to Delhi.
"When I came to Delhi in 1990, I knew I had to do something. I tried my hand at many odd jobs, but nothing worked. So I thought, let's start this business and establish the first stall of momos.There was no culture of momos in Delhi prior to this, they was served only in restaurants, not in stalls like these," she said.
However, the biggest challenge for Dolma Tsering in those times was people's lack of knowledge about the dumplings. They were skeptical, and doubted whether the dumplings were even edible. Dolma aunty had a tough time starting out, but slowly the customers started pouring in. One customer came, two followed and through word of mouth the stall gained the recognition it has today.
"There were not many takers of momos then. Nobody knew what it was. And on top of everything, these dumplings were steamed. So people thought they aren't cooked,'' she said.
Steamed food, that too in the streets was still an alien concept for customers according to Dolma aunty, "People would immediately give in to fried food, as traditionally it gives an impression of being cooked and cooked well, but a steamed snack was way ahead of its time."
At which point my eyes rove around the two giant steamers at the counter, from which Ramu was intently serving the momos. I asked about her first ever steamer. "I had a steamer, which was much smaller in size that I got from my home. People often looked at it and were baffled. Now steamers can be found anywhere."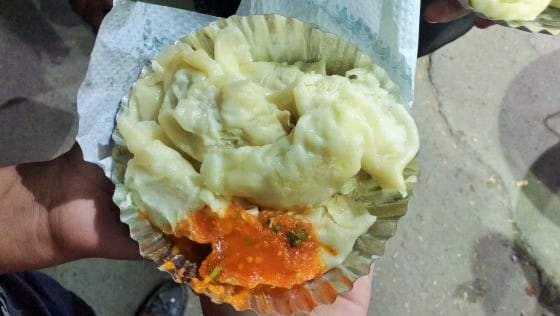 Speaking further of her challenges, which ranged from the language barrier to her gender, she said, "when we started out there were not many women in Delhi, sweating and selling food on the streets. A woman running a thela was again a weird idea for people to conceive. But me and my sister were adamant to make this work, and here we are today."
Recalling her other major challenge of communication she said, "Language was another hindrance. I barely knew Hindi, and to explain the relatively new dish to a bunch of already weary customers was a task. Many days passed without any takers and us just staring at the people crossing by."
Dolma Tsering doesn't stand at her cart as much anymore. Her son Ramu takes care of the business now. In 1994, Dolma aunty started out by selling a plate (of six) momos at rupees 15. Today she sells eight momos a plate for INR 50. "Now I have increased it to eight pieces per plate, as now at every stall they sell about eight to 10 pieces per plate, but people came when there were six pieces also," she said.
Explaining her process of prepping the momos everyday, she says, "We make these momos using our hands. We knead our own dough, fill in our own stuffing and shape them by hands only. There are ways to go about it in machines but we don't do that."
Is that the secret behind her mouth-watering momos? Could be. These momos are bigger and fuller than the momos you usually find in your regular street side stalls. Dolma aunty has personally ensured that the ingredients, recipe and the proportion are maintained. The veg momos are stuffed with cauliflower, onion, garlic and grated carrots, while the chicken ones are filled with a mighty dose of minced chicken. She sells paneer momos too. However the star of the stall is the lip-smacking, red chilly-garlic chutney that is served alongside.
Surprised and humbled by her meteoric rise in popularity Dolma aunty says she is thankful to all the people who accepted the idea of momos and embraced her with so much affection over the years. "It took some years, but now you see momos at every stretch and corner of Delhi. Especially in the last six to seven years, you can see a new thela coming up everywhere."
["source-ndtv"]