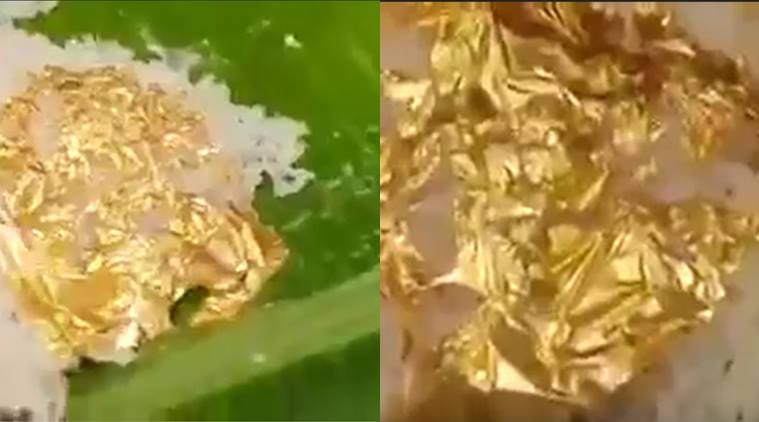 When it comes to Indian weddings there is no dearth of glitz and glam. There's always an attempt to make it a unique and elaborate affair. And where there is an Indian wedding, there will be gold. From brides adorned in gold jewellery, head-to-toe, to golden chariots, we have seen it all. But moving beyond gifts and ornaments, gold seems to have traversed into the domain of food as well now. Yes, at a recent wedding in Hyderabad, guests were served 'gold rice'. Well, not rice made of gold, if that's what you're thinking, but rice with a touch of gold.
A video going viral on WhatsApp and a few social media platforms show edible golden leaves laid out on steaming hot rice. In case you are wondering what's so special, well, the leaves are made out of 24-carat gold. Yes, the video shows a woman adding a gilted twist to the traditional meal served on banana leaves, called the Aratti Akku Bhojanam. She places the gold leaf on the hot rice and the edible gold extract melts onto it, making the gold and white combination quite appealing.
The innovation has been attributed to V Sai Radha Krishna, a Hyderabad-based caterer. He decided to serve the guests gold because his client asked for something different, a News Minute report said. "It is not new to have gold. People have been eating sweets wrapped in gold leaf and silver leaf. I tried the same with rice. I knew that gold leaf will melt on hot steamed rice. I just tried it, and it worked well," Sai said.
Inspired by the city's famous gold-laden paan (betel leaf), he decided to try it on rice as it's the only natural thing to do! He also said that he made no special effort to buy these gold leaves. "They are commonly available in the old city (Hyderabad)," he said adding that it costs only around Rs 300 per leaf.
While gold and silver leaves may be common on desserts and other assortments, this is possibly the first time it has been tried on rice. Sai, who is not a stranger to lavish weddings and wealthy clients, also was responsible for food at BJP MP Gali Janardhan Reddy's daughter's wedding worth Rs 500 crore.
Though the footage is from 2016, it is going viral now. Sai says he has done it only once and is willing to do it again, if clients ask him.
["source=indianexpress"]