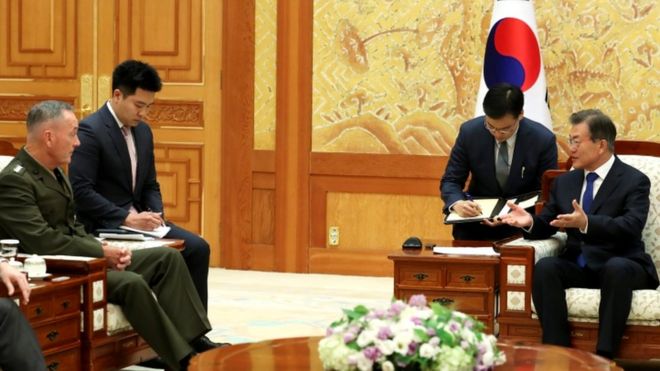 South Korean President Moon Jae-in has called on his US ally to help prevent a war, amid worsening tension over the North's nuclear threat.
Mr Moon told the visiting top US military official that there must be a diplomatic solution to the crisis.
Gen Joseph Dunford said the US priority was diplomacy but he added that it was committed to defending the South against a possible military attack.
The North on Monday said any war could "only be turned into a nuclear war".
Also on Monday, China's commerce ministry issued an order banning a slew of imports from North Korea, in line with additional UN sanctions that were announced earlier this month.
The sanctions were introduced in response to a wave of missile tests and increased military rhetoric from North Korea.
In another development, Ukraine has denied supplying North Korea with rocket engines from one of its factories.
A report in the New York Times suggests that Soviet-era engines made at the Yuzhmash factory in Dnipro (the city known until recently as Dnipropetrovsk) were supplied to the North illegally.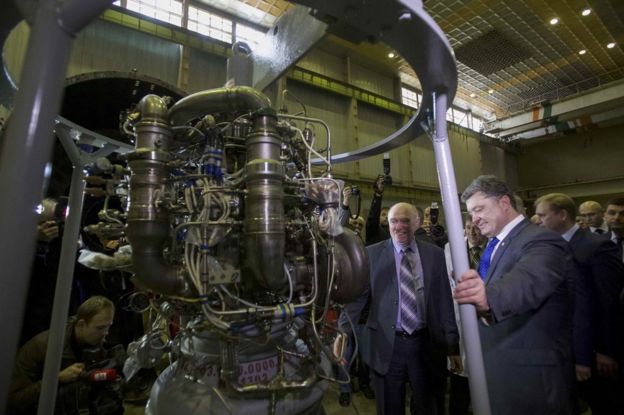 What does Kim Jong-un really want?
What could North Korea do?
North Korea's neighbours consider risk of war
'Calm and responsible'
US President Donald Trump has warned North Korea against threatening the American territory of Guam. The US has 28,500 troops in South Korea.
Speaking on Monday, Mr Moon said: "Our top priority is the national interest of [South Korea] and our national interest lies in peace.
"I am confident that the US will respond to the current situation in a calm and responsible manner in line with our policy direction."